Last week we took a look at the most popular gents of Mad Men and their hairstyles, this week we'll take a look at the women of Mad Men and their ever evolving hair. The attention to detail that the show puts into every episode is astonishing and makes every episode unique. We see the ladies hair evolve from the styles of the late 50s into that of the early to mid 60s, depending on the season.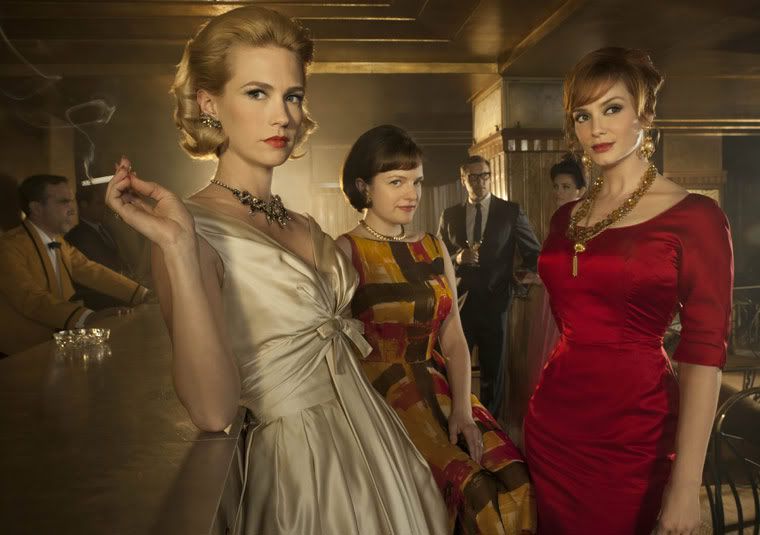 Betty Draper (January Jones), Peggy Olson (Elisabeth Moss) and Joan Harris (Christina Hendricks) : Season 4
Photo by Frank Ockenfels 3
As Mad Men evolves into the 60s we see sleeker hair and more form fitting clothing as opposed to the circle skirts and tightly curled coifs of the 50s. Women from this era often went to the salon only once a week and maintained their hair on their own at home the other 6 days. That included sleeping in scarfs and carefully placed pins to keep the perfectly sculpted hairdo's in place. While many of the hairstyles of this era are far too complex and time consuming for the modern women, aspects of these styles can be tweaked to be applied to modern styles.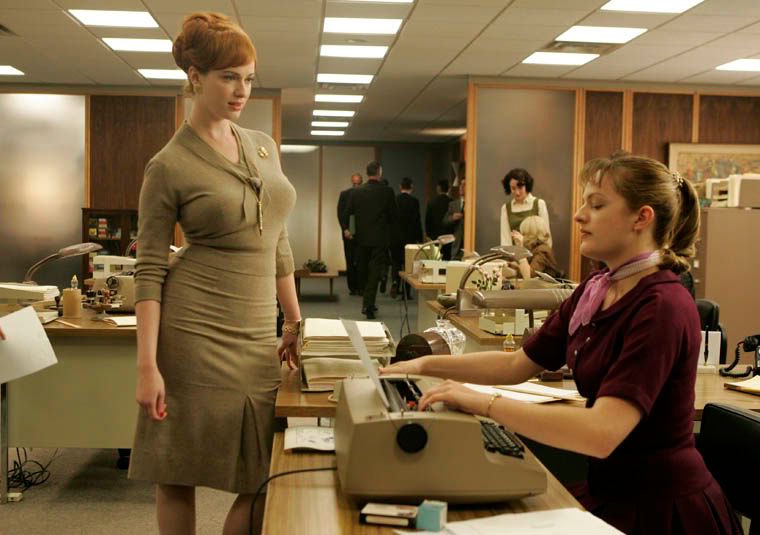 Joan Harris and Peggy Olson : Season 1
Photo by Carin Baer
The above photo is from Season 1 of Mad Men where the style was still stuck in the 50s, at least for Peggy Olson. Peggy's character is a lot more naive than Joan and Peggy's hair and wardrobe is a reflection of that. Conservative cuts and girlish hair while Joan's outfit is much more form fitting and her hair is more updated to a current 60s hairstyle. Joan's hair is one of the most requested styles from Mad Men and who wouldn't love to wear that perfectly placed coif?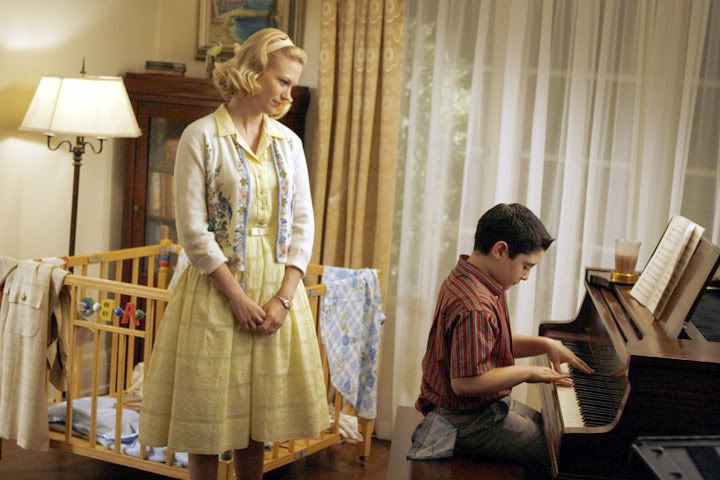 Betty Draper : Season 1
Photo by Carin Baer
Betty's style in season 1 is very much still part of the late 50s with a more "cupcake" silhouette with her dresses (almost all have a full circle skirt) and her hair is carefully set in pin-curls overnight to create her perfectly sculpted curls. In many of the episodes where she isn't in her full housewife dress she lounges in housecoats or Jackie Kennedy inspired pants and cardigan twin sets. Most people probably don't look at Betty's hair in the above picture and really say to themselves, "I want that look for me." However, it is a classic bob which is never out of style regardless of the era. Apply that with modern styling for get a sweetly curled modern look.

Betty Draper : Season 4
Photo by Frank Ockenfels 3
This photo of Betty reflects the progression into the mid 60s. Her hair has slightly more volume than in previous seasons and looser curls while her clothes are slimmer and more form fitting than her circle skirts of previous seasons. I really love Betty's hair as it transitions into the 60s. It's updated yet still has the housewife look, which is perfect for Betty and her white picket fence. Try this look if you have a special even to attend (that doesn't require a formal updo). The sleekness of the hair directed away from the face with the volume is classically polished.

Peggy Olson : Season 4
Photo by Frank Ockenfels 3
Peggy Olson has undergone the biggest style change within the seasons than any other character. The more Peggy learns about herself and immerses herself more into her career, the more her style evolves. Her hair is a drastic change from the little naive girl ponytails of season 1. This sleeker, curled under bob with the side bang is so indicative of the 60s yet is within the realm of comfort for Peggy. Prior to this new hair (but after the ponytails) she wore a flipped up pageboy hairstyle that was still provocative of the late 50s and very early 60s. Just another example of how a bob is never wrong!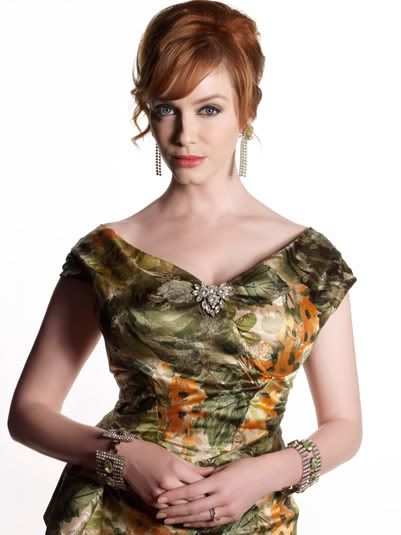 Joan Harris : Season 4
Photo by Frank Ockenfels 3
Joan is the resident sexpot of Sterling Cooper Draper Pryce. Her hair, clothes and accessories all ooze with her femininity. Even her saucy red hue demands attention. I love the updos that Joan constantly wears at the office. It's all business and perfectly in place yet still manages to have a slightly tousled appearance that prevents it from looking too harsh. Now, "tousled" in the 60s is far different than how we'd view it today but if you compare Joan's hair to the sculpted coif of Peggy or Betty, you can see the "tousled" element of Joan's.
To Recreate these looks. Invest in a great set of hot rollers or velcro rollers. I'd recommend the hot rollers if you're looking to set your hair into an updo a la Joan but if you're looking towards a Betty or Peggy 'do, try the velcro rollers. Modern tools will prevent these styles from looking like you stepped out of the 60s as Betty probably pin curled her hair to achieve those locks. Make sure to use volume enhancing products, specific to your hair type. Fine to medium hair? Try a weightless volume foam or a silky gel, my favorite is the Redken Velvet Gelatine for the perfectly bouncy blow out. Coarser haired gals try volume products with more hold such as Catwalk Your Highness Thickening Gel Creme. Make sure to set with a volume hairspray with medium to firm hold for all day control.
Come on in and see me, Marlo, where I am in Plymouth and I'll get you set up with your new look or give pointers on wearing your current style in a different way. I'm looking forward to working with you for customized cut, color or cut and color.
I do not own or claim to own any of the above images. If these are yours and you would like credit, please don't hesitate to email me at marlo [at] marlodoeshair.com and I will immediately give credit.
recumbentreg likes this
faye-peroff likes this
marlodoeshair posted this